"The Jubilee Express" by Maureen Johnson - 3/5 Stars
I liked the story, thought it was cute-ish, but did not like how the main character stereotyped cheerleaders. It was another one of those "I'm not like those girls" type of thing. I really hate when people do that. Just because someone is pretty, wears make up and likes to be perky and do cheers, doesn't make them a bad person or make them less than you. That goes for any person/group who is different from you. Don't be so quick to judge. It was also annoying how the author basically said all cheerleaders are named Amber and Madison. Of course, I know nothing about cheerleaders, so...

I was really cringing throughout the story, because I was expecting her to cheat on her boyfriend; the story just gave that vibe.
(show spoiler)
.
I liked Stuart as a character. He seemed genuinely like a good person.

The whole thing with the Christmas village was different.

I like the writing style and think it would be fun to expand it to a full length novel and really expand on the character developments, and have it not be so instalove.

---

"A Cheertastic Christmas Miracle" by John Green - 1/5 stars.
Did John Green really write this? It was horrible and gross. Are boys really like that about cheerleaders? Anyways, it just made me feel a little disgusted how the girls are being treated/are viewed because they happen to be cheerleaders. Also saying "that's so gay"... ugh, and it was used more than once. I also did not appreciate the dig at Lindsay Lohan. Sure the likelihood, Lindsay will ever read this is slim, but it's a pretty crappy thing to do. She's still a person and the story basically called her a slut. "Legs always open." So John Green lost a little of my respect.

---

"The Patron Saint of Pigs" by Lauren Myracle - 2.5/5 stars.
The main character was really painful to read. I mean, I guess she learned her lesson in the end, at least I hope so. I didn't really care much for it, but I did like the ending somewhat with everyone coming together.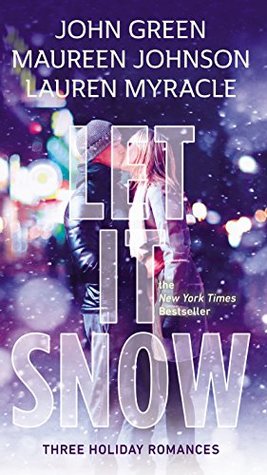 ---
Other John Green books:
The Fault in Our Stars: (4/5 stars)
Other Maureen Johnson books:
13 Little Blue Envelopes: (3.5/5 stars)
The Last Little Blue Envelope: (3.5/5 stars)
The Bermudez Triangle: (1/5 stars)
Other Lauren Myracle books:
Kissing Kate (3/5 stars)